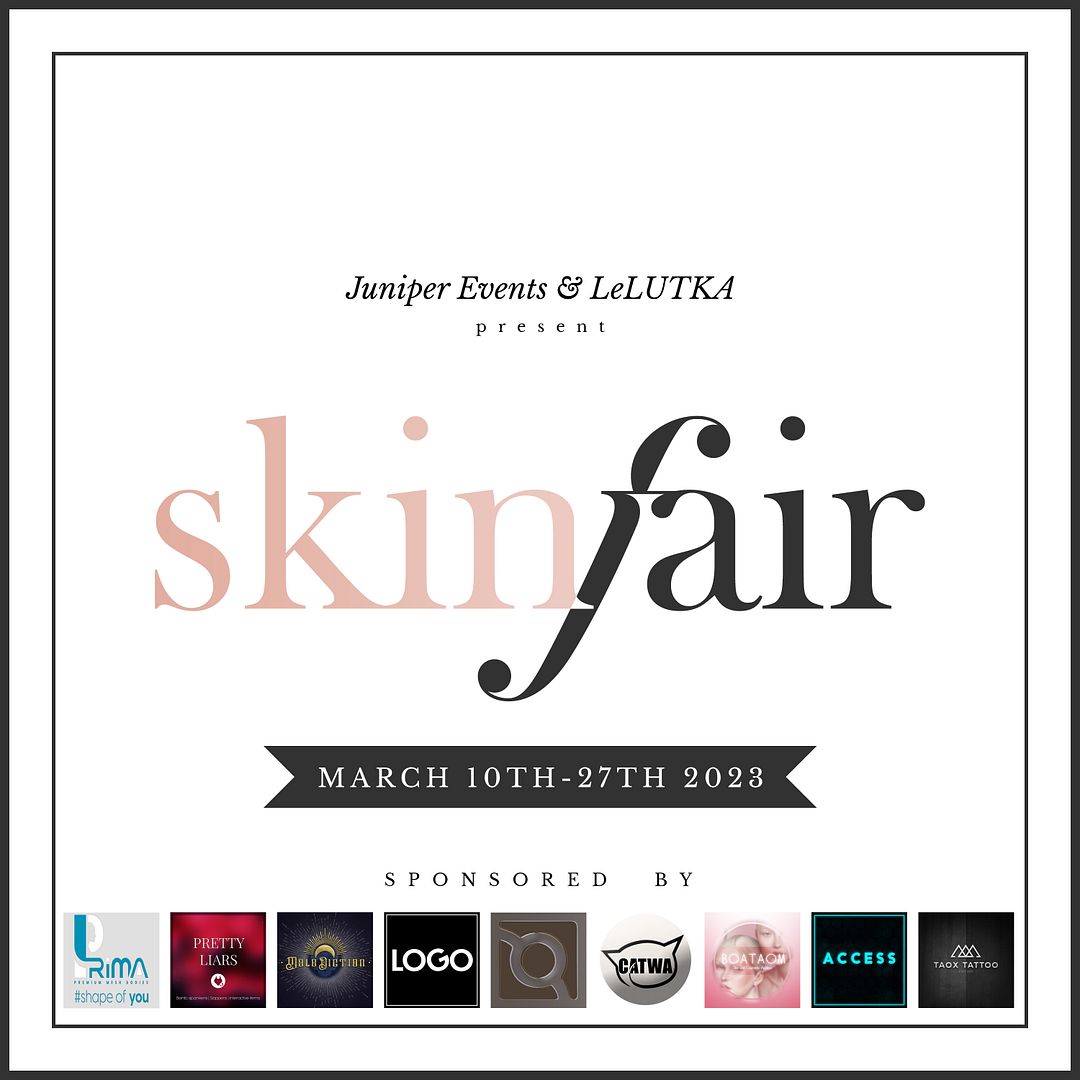 Is it possible for a skin to fit you so well that your jaw goes though the floor? If so, then NAVZAR really did it with their addition to SKIN FAIR– ANEMONA! A click right out of the box and you are good to go! This is the RoseKiss tone on a Raven head and the fit is really soft and so pretty! There are so many tones to choose from and I know you will find your perfect fit- All thanks to NAVZAR!
Also, I am including some addons and enhancements to show how well they work with this skin. I added duckie's tattoo "stars" in faded and I love the sweet touch these have. Not too soft but not too harsh. Remember, All of duckie's mesh and bom system layers are modify unless stated on the ad otherwise, so feel free to tint and modify to your hearts content. But lets not forget ANDORE and their offering to SKIN FAIR– Shary! Its my first time wearing elf ears so I think I am in love!
Then we have R3HAB and their amazing lipsticks and eyeshadows. Here, I am wearing this gorgeous deep crimson red from their "Luscious" HUD and this smoky cloudy shadow from the "Guardian" HUD. NAVZAR, R3HAB, ANDORE and duckie all combine to make this one stunning image!
I mean, look how smooth they all fit together? The possibilities are endless and guess what?- Wanna know something? What do these products have in common? They are all available at SKIN FAIR! Goodness, SKIN FAIR, ears and a beautiful, all-in-one look, you cant go wrong! Come grab these treasures up now at SKIN FAIR, it is open now! I hope to see you soon!
CREDITS
Lelutka| Raven
Thalia Heckroth| Dalia top and pant- BLACK
PALETO| Backdrop:. Halloween Night

*Navzar| Anemona RoseKiss Tone @ SKIN FAIR-MARCH 10th
*Andore| Shary elf ears @ SKIN FAIR-MARCH 10th
*R3HAB| Luscious and Guardian HUDS @ SKIN FAIR-MARCH 10th
*duckie| stars tattoo @ SKIN FAIR-MARCH 10th

TAGS
SKIN FAIR, Lelutka, NAVZAR, Anemona, Andore, R3HAB, duckie, Thalia Heckroth, Paleto